the bracket
Okay, folks. It's the moment you've all been waiting for. We have a bracket, and it's time for battle. To start voting in the greatest one hit wonder competition of all time, click on the button below. It'll take you to another website with a kickass, interactive voting platform. After you vote, I'll keep you updated on the next round. You're welcome.
Below is a picture of the bracket, and a link to a .pdf download for all of you enthusiasts.
To get here, we went through a lot. There were early rankings, a preliminary Round of 128, a Last Chance Qualifier, and a whole bunch of DQs.
For a bit more info about the final stages of bracket formation, read below.
Enjoy, and tell your friends. Let's get some votes on this thing.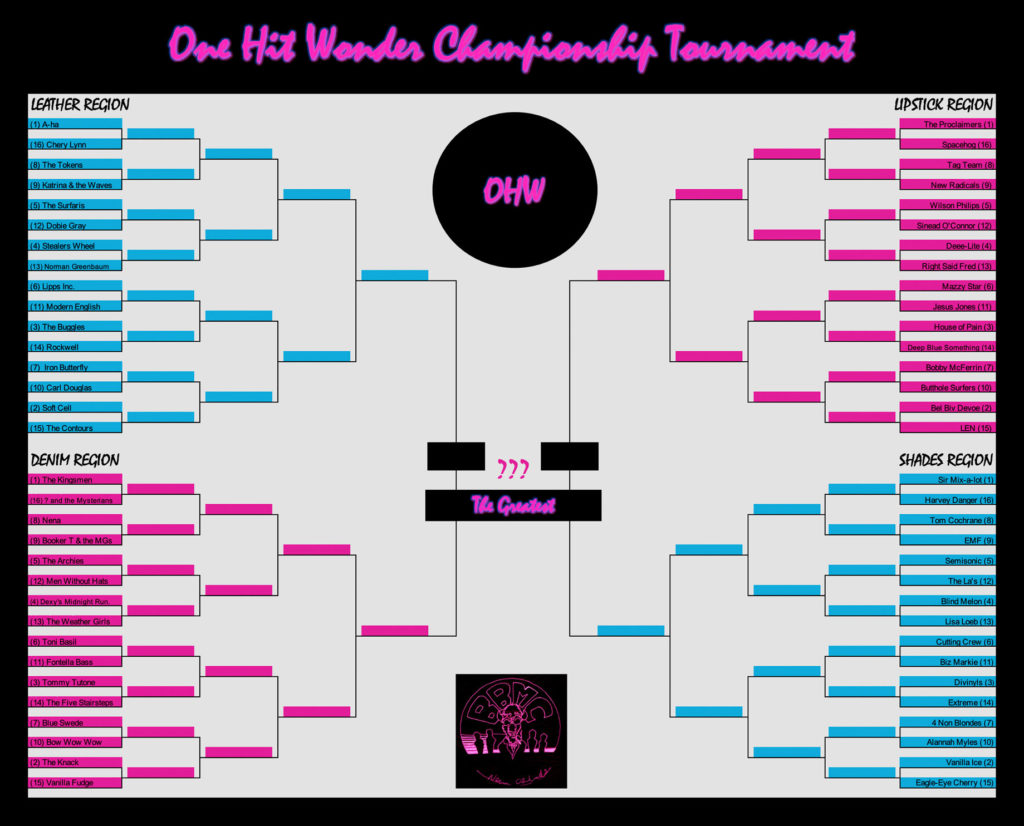 final DQs
The road to the final bracket was hard. We lost a lot of good artists. Why? Because people made really good arguments challenging the validity of some contenders' qualifications as one hit wonders. So, at the 11th hour, I had to DQ a handful artists and promote others. Here is a list of those poor souls that had to be banished from tournament contention. It's too bad. There's some good shit here.
Flock of Seagulls "I Ran" — Okay listen. Flock of Seagulls may now be remembered for little more than "I Ran," but the fact is that they were much more. "Space Age Love Song" alone is popular enough to disqualify them, but they had a few other offerings as well. Quite honestly, I've been listening to them again, and this band is the shit. That's probably why they would have been a 3 seed if they remained.
Naked Eyes "Always Something There to Remind Me" — Would have been a 7 seed, but for another song called "Promises, Promises." Who knew?
The Troggs "Wild Thing" — I could have sworn they were a one hit wonder, but according to the rules, they are not. "With a Girl Like You" is too big.
Young MC "Bust a Move" — Dude had a lot more going on. He was all up in them charts.
Montell Jordan "This Is How We Do It" — Anyone else every heard "Get It On Tonite"? Me neither. But millions of people listen to it, so DQ
Blackstreet "No Diggity" — I feel stupid about this one. Blackstreet were all over the charts. They had way too many hits to be considered a proper one hit wonder.
Mr. Big "To Be With You" — Very hard to believe that this band had another big hit, but their cover of "Wild World" was big enough to DQ them.
Europe "The Final Countdown" — "Carrie." You asshole song. You're depriving me of having Europe in the bracket. Sucks.
Survivor "Eye of the Tiger" — Unfortunately, Survivor had another hit called "Burning Heart." Whatever.
These last two really break my heart. I love them both. But they were both on the bubble anway, and we have to stick to the rules.
Go forth, friends. Let's crown a champ.