results
Get ready to rejoice, and to weep. Winners and losers are here.
If you are only wandering into this tournament, and you're having a serious WTF moment, go back to the opening explainer page by clicking here.
For the rest of you experienced veterans, a reminder: the One Hit Wonder Tournament Round of 128 began on Sunday, April 26 and ended on Sunday, May 3. We received 135 responses. Good to know that all of you nerds are out there. You are my people.
The point of our first poll, archived here, was to narrow the field of one hit wonders from 128 to 64. There were some dismantling victories, some tragic upsets, and some very close calls.
Before you see if your favorite band won, I have to explain one thing.
All of you were very helpful in providing feedback, and trying to make sure the ultimate 64-band bracket is error-free. In your notes, you provided me with suggestions for disqualifications from the tournament, and you were right about two bands: Sugarhill Gang and Suzanne Vega. They are not one-hit wonders. You also provided me with eight new songs that should be considered for the tournament. Thanks!
In response, I have created one more tiny step before going live with the 64-artist tournament. Basically, I need you to vote immediately in a very quick last-chance qualifier. I explain it below, but why don't you just click on the button, vote now, and ask questions later?
Please vote by May 13!
---
Winners charts
Skip to list of winners
Skip to hot takes on Round of 128
Skip to Last Chance Qualifier explained
---
round of 128 winners charts
Quick note on these figures. Being on the left does not mean the band lost, or that it has negative votes. These are just mirror images. The band with the longest bar won. Also, if the band's bar crosses the dashed line, which signifies the 68-vote threshold, it means they won.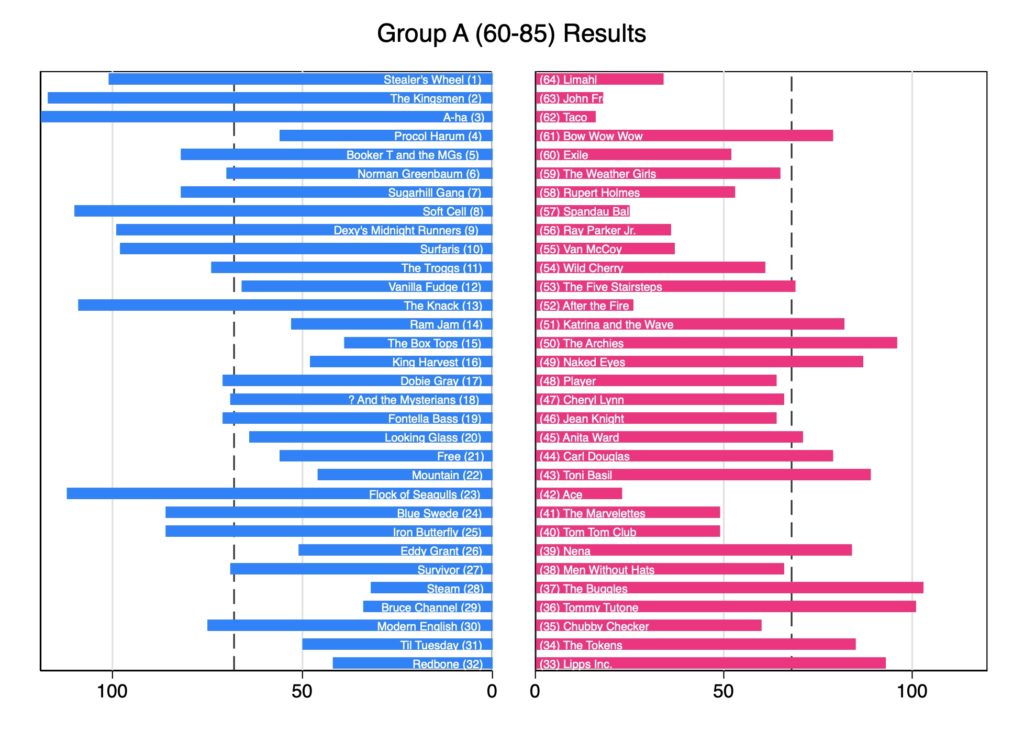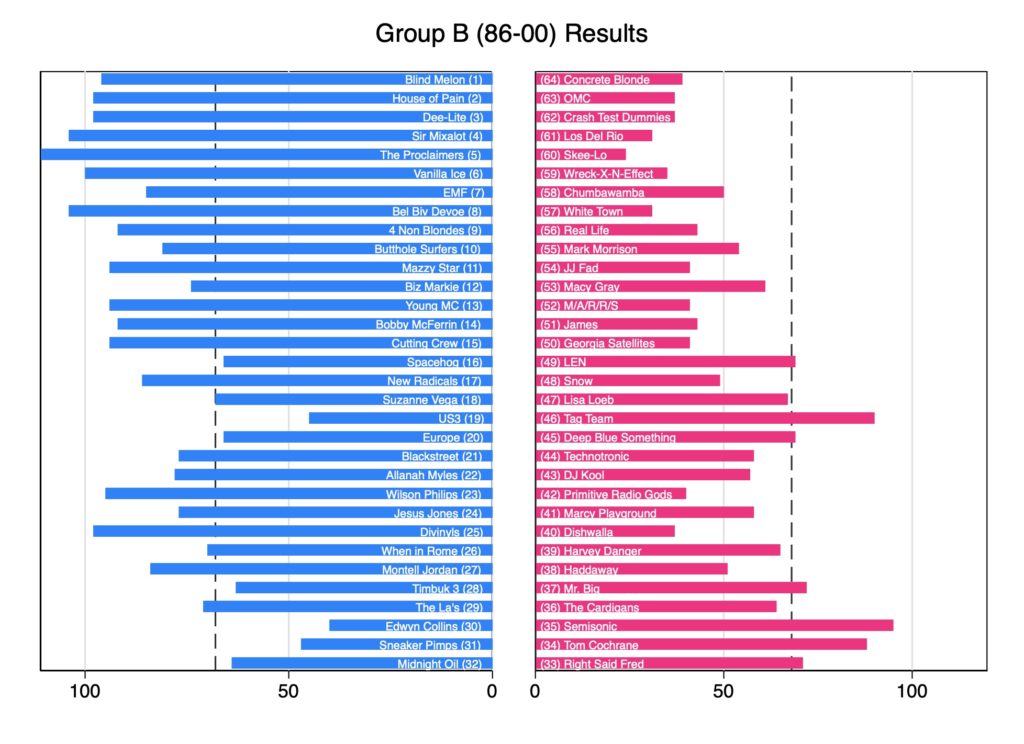 ---
Back to top
List of Group A winners
List of Group B winners
Skip to hot takes
Skip to last chance qualifier explained
---
round of 128 winners lists
Group A
(1) Stealer's Wheel "Stuck in the Middle With You" DEFEATS
(64) Limahl "The Neverending Story"

(2) The Kingsmen "Louie Louie" DEFEATS
(63) John Fred and His Playboy Band "Judy in Disguise"

(3) A-ha "Take on Me" DEFEATS
(62) Taco "Putting on the Ritz"

(61) Bow Wow Wow "I Want Candy" UPSETS
(4) Procol Harum "Whiter Shade of Pale"

(5) Booker T and the MGs "Green Onions" DEFEATS
(60) Exile "Kiss You All Over"

(6) Norman Greenbaum "Spirit in the Sky" DEFEATS
(59) The Weather Girls "It's Raining Men"

(7) Sugarhill Gang "Rapper's Delight"* DEFEATS
(58) Rupert Holmes "Escape (Pina Colada Song)"

(8) Soft Cell "Tainted Love" DEFEATS
(57) Spandau Ballet "True"

(9) Dexy's Midnight Runners "Come on Eileen" DEFEATS
(56) Ray Parker Jr. "Ghostbusters"

(10) Surfari's "Wipe Out" DEFEATS
(55) Van McCoy "The Hustle"

(11) The Troggs "Wild Thing" DEFEATS
(54) Wild Cherry "Play That Funky Music"

(53) The Five Stairsteps "O-o-h Child" UPSETS
(12) Vanilla Fudge "You Keep Me Hanging On"

(13) The Knack "My Sharona" DEFEATS
(52) After the Fire "Der Kommisar"

(51) Katrina and the Wave "Walking on Sunshine" UPSETS
(14) Ram Jam "Black Betty"

(50) The Archies "Sugar Sugar" UPSETS
(15) The Box Tops "The Letter"

(49) Naked Eyes "Always Something There to Remind Me" UPSETS
(16) King Harvest "Dancing in the Moonlight"

(17) Dobie Gray "Drift Away" DEFEATS
(48) Player "Baby Come Back"

(18) ? and the Mysterians "96 Tears" DEFEATS
(47) Cheryl Lynn "Got to Be Real"

(19) Fontella Bass "Rescue Me" DEFEATS
(46) Jean Knight "Mr. Big Stuff"

(45) Anita Ward "Ring My Bell" UPSETS
(20) Looking Glass "Brandy"

(44) Carl Douglas "Kung Fu Fighting" UPSETS
(21) Free "All Right Now"

(43) Toni Basil "Hey Mickey" UPSETS
(22) Mountain "Mississippi Queen"

(23) Flock of Seagulls "I Ran" DEFEATS
(42) Ace "How Long"

(24) Blue Swede "Hooked on a Feeling" DEFEATS
(41) The Marvelettes "Please Mr. Postman"**

(25) Iron Butterfly "In-a-Godda-da-Vida" DEFEATS
(40) Tom Tom Club "Genius of Love"

(39) Nena "99 Luftballoons" UPSETS
(26) Eddy Grant "Electric Avenue"

(27) Survivor "Eye of the Tiger" DEFEATS
(38) Men Without Hats "Safety Dance"

(37) The Buggles "Video Killed the Radio Star" UPSETS
(28) Steam "Na Na Na Na Hey Kiss Him Goodbye"

(36) Tommy Tutone "867-5309 (Jenny)" UPSETS
(29) Bruce Channel "Hey Baby"

(30) Modern English "I Melt With You" DEFEATS
(35) Chubby Checker "The Twist"

(34) The Tokens "The Lion Sleeps Tonight" UPSETS
(31) Til Tuesday "Voices Carry"

(33) Lipps Inc. "Funky Town" UPSETS
(32) Redbone "Come and Get Your Love"
*This is going to piss everyone off, but Sugarhill Gang has been disqualified because they had another hit, "Apache," that was too big to ignore. I explain below how I deal with this DQ.
**The Marvelettes were disqualified shortly before voting, and Blue Swede ultimately faced a substitute: Dead or Alive "You Spin Me Round." Blue Swede still won.

---
---
Group B
(1) Blind Melon "No Rain" DEFEATS
(64) Concrete Blonde "Joey"

(2) House of Pain "Jump Around" DEFEATS
(63) OMC "How Bizarre"

(3) Dee-Lite "Groove is in the Heart" DEFEATS
(62) Crash Test Dummies "Mmm Mmm Mmm Mmm"

(4) Sir Mixalot "Baby Got Back" DEFEATS
(61) Los Del Rio "Macarena"

(5) The Proclaimers "I'm Gonna Be (500 Miles)" DEFEATS
(60) Skee-Lo "I Wish"

(6) Vanilla Ice "Ice Ice Baby" DEFEATS
(59) Wreck-X-N-Effect "Rump Shaker"

(7) EMF "Unbelievable" DEFEATS
(58) Chumbawamba "Tubthumping"

(8) Bel Biv Devoe "Poison" DEFEATS
(57) White Town "Your Woman"

(9) 4 Non Blondes "What's Up?" DEFEATS
(56) Real Life "Send Me An Angel"

(10) Butthole Surfers "Pepper" DEFEATS
(55) Mark Morrison "Return of the Mack"

(11) Mazzy Star "Fade Into You" DEFEATS
(54) JJ Fad "Supersonic"

(12) Biz Markie "Just a Friend" DEFEATS
(53) Macy Gray "I Try"

(13) Young MC "Bust a Move" DEFEATS
(52) M/A/R/R/S "Pump Up The Volume"

(14) Bobby McFerrin "Don't Worry, Be Happy" DEFEATS
(51) James "Laid"

(15) Cutting Crew "I Just Died in Your Arms" DEFEATS
(50) Georgia Satellites "Keep Your Hands to Yourself"

(49) LEN "Steal My Sunshine" UPSETS
(16) Spacehog "In the Meantime"

(17) New Radicals "You Get What You Give" DEFEATS
(48) Snow "Informer"

(18) Suzanne Vega "Tom's Diner"* DEFEATS
(47) Lisa Loeb "Stay"

(46) Tag Team "Whoomp There It Is" UPSETS
(19) US3 "Cantaloop"

(45) Deep Blue Something "Breakfast at Tiffany's" UPSETS
(20) Europe "Final Countdown"

(21) Blackstreet "No Diggity" DEFEATS
(44) Technotronic "Pump Up the Jam"

(22) Allanah Myles "Black Velvet" DEFEATS
(43) DJ Kool "Let Me Clear My Throat"

(23) Wilson Philips "Hold On" DEFEATS
(42) Primitive Radio Gods "Standing Outside a Phonebooth…"

(24) Jesus Jones "Right Here, Right Now" DEFEATS
(41) Marcy Playground "Sex and Candy"

(25) Divinyls "I Touch Myself" DEFEATS
(40) Dishwalla "Counting Blue Cars"

(26) When in Rome "The Promise" DEFEATS
(39) Harvey Danger "Flagpole Sitta"

(27) Montell Jordan "This is How We Do It" DEFEATS
(38) Haddaway "What is Love"

(37) Mr. Big "To Be With You" UPSETS
(28) Timbuk 3 "Future So Bright"

(29) The La's "There She Goes" DEFEATS
(36) The Cardigans "Lovefool"

(35) Semisonic "Closing Time" UPSETS
(30) Edwyn Collins "A Girl Like You"

(34) Tom Cochrane "Life is a Highway" UPSETS
(31) Sneaker Pimps "6 Underground"

(33) Right Said Fred "I'm Too Sexy" UPSETS
(32) Midnight Oil "Beds Are Burning"
*Suzanne Vega is a post-voting DQ. If this hurts your feelings, blame it on a song called "Luka." Heard it? Me neither.
---
Back to top
Back to winner charts
Skip to last chance qualifier explained
---
hot takes
Buckle up, fuckleheads. Below are some full-blown analytics.
But first, listen. I know the pink in my graphs doesn't match the pink in my headings. I love the pink of my headings, and I want that shade so desperately for my graphs. All through COVID-19, I have slept like a baby. Last night, though, I couldn't go to bed because of these clashing pinks. In my fevered insomnia, I thought about complaining directly to the STATA chief graph editor for offering an insufficient variety of hues. Then I realized that Clashing Pinks is a great band name, and I got the hell over it. You should too.
Group A
First, how do our pre-tournament seedings hold up? In Group A, 13 matchups were won by the underdog. In Group B, only 7 dogs emerged victorious (see more below). This means that the pre-Round of 128 rankings for Group A were more unstable, particularly in the middle of the pack; six of nine songs ranked between 43 and 51 won their matchups. This probably reflects some peculiarities of my crack team of seeders, who might have liked some songs–like King Harvest's "Dancing in the Moonlight"–more than the average person. But also, King Harvest is better than Naked Eyes. That's just a fact. You all got it wrong. Goofballs.

Second, there were some truly dominant wins. Blowouts even. Based on votes, there is a clear top five that have emerged in Group A: A-ha, The Kingsmen, Flock of Seagulls, Soft Cell, and The Knack. Somewhat surprisingly–given that they matched up against a weak opponent in Limahl–top-seeded Stealers Wheel only received the eighth-most votes. They even scored lower than two underdogs: The Buggles and Tommy Tutone. Of all the contestants, A-ha and The Kingsmen came out of the Round of 128 as the clear favorites. I like this because they have very little in common. One band was from Portland and the other was from Norway.
Third, Group A was home to the biggest upsets in the Round of 128. Bow Wow Wow's "I Want Candy" outpaced Procol Harum's "Whiter Shade of Pale," and it wasn't as close as you might expect. 79 to 56 votes. That's a 4-seed losing handily to a 61-seed. That's like Gonzaga getting pushed around by Centenary.
Fourth, there was one DQ during the Round of 128, as you may have read in the fine print above. Someone alerted me to the fact that Sugarhill Gang also did that song "Apache." If you've ever gone to a club that's got a cool DJ, you've heard this song: "Kimosabe, jump on it!" Needless to say, I had no idea that was Sugarhill Gang. My bad.
There was also a DQ in Group B, and a few songs that people nominated for consideration after the Round of 128 already started. This means I had to invent a process for handling DQs while also proposing to include a few new songs–all without disturbing the integrity of the tournament.
Thus was born the Last Chance Qualifier. I will explain in a moment, but first, more on Group B.
Group B
First, Group B's seeding was apparently more accurate. The top 15 managed to dispense with their opponents. And the 16th seed, Spacehog, lost a very close battle to LEN. This one hurts, especially because I profiled Spacehog on the Rules page. They are awesome, and it's tough to see them go down by three votes.
Second, there is a clear top dog in Group B: The Proclaimers "I'm Gonna Be (500 Miles)." Sir Mixalot and darkhorse Bel Bev Devoe surged to tie for second, while Vanilla Ice coolly slid into fourth. After that, there is a lot of parity. In a weird statistical coincidence, the top seed from Group B, Blind Melon, finished eighth in votes–just like the top seed from Group A.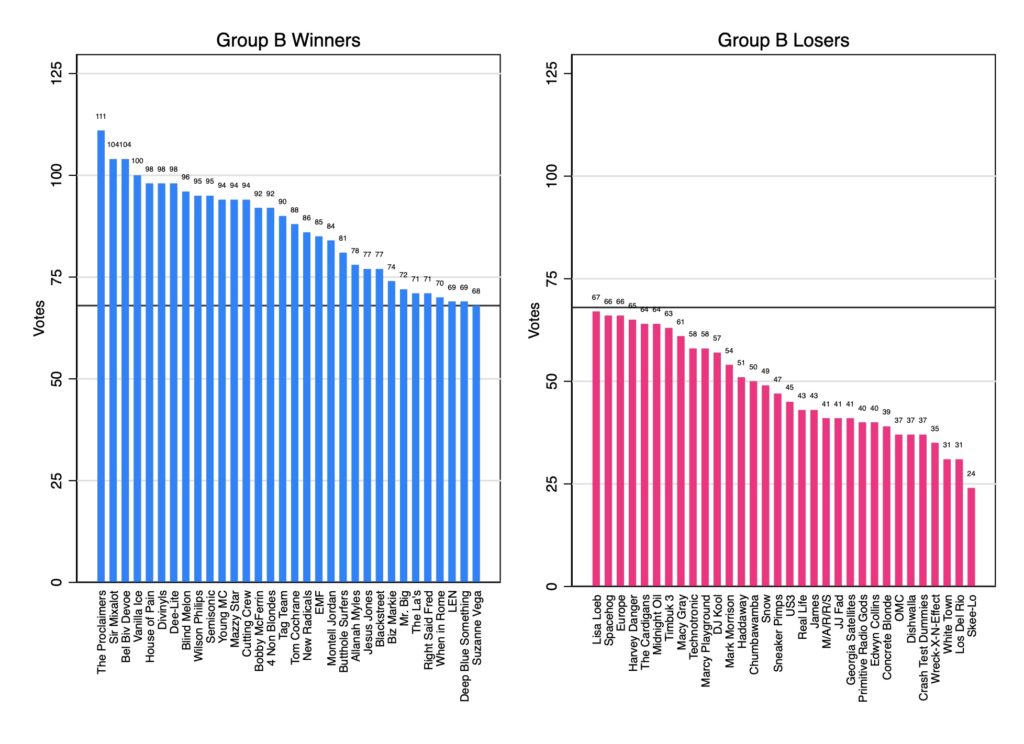 Third and finally, there was a last-minute DQ in this pool of songs also. Suzanne Vega had another hit I had never heard of. It's called "Luka," and apparently two fans on Facebook know about it. But so do millions of listerners on Spotify. According to the Verve Rule, Suzanne Vega is not a one hit wonder. (If you don't know what the Verve Rule is, you still haven't read the Rules page. I understand. You are "busy.")
---
Back to top
Back to winner charts
Back to winner lists
---
last chance qualifier
Suzanne Vega brings me back around to the problem of DQs. Here's the situation. I now have to eliminate two songs from contention, which leaves us with only 62 winners. That won't work in a 64-song bracket. Rocket science, right?
There's a second problem. Sugarhill Gang and Suzanne Vega, both winners, should have been eliminated before the Round of 128. It's unfair that they competed and vanquished their opponents. What if those opponents had gone up against other, weaker songs? This is especially pronounced in the case of Suzanne Vega, because she beat Lisa Loeb by one vote. It was the closest race in the whole Round of 128.
Oh yeah, and a third problem. Since I started publicizing this thing, people have proposed a dozen artists, not yet considered in my full list, that could count as one hit wonders. I narrowed them down to eight, but that still sucks. I want to be comprehensive. I want all bands to have an equal chance.
To solve these problems, I ate an Adderall, cried in the closet while speed-painting some old Hot Wheels, and generated a solution: The Last Chance Qualifier.
How will it work? Like this.
(1) I will take the four worst winners and the four best losers from each Group, and pool them together.

(2) I will add into each pool four new, unconsidered songs from each time period.
| | |
| --- | --- |
| Group A New Songs | Group B New Songs |
| The Contours "Do You Love Me" | The Outfield "Your Love" |
| Thunderclap Newman "Something in the Air" | Extreme "More Than Words" |
| Pure Prairie League "Amie" | Republica "Ready To Go" |
| Rockwell "Somebody's Watching Me" | Eagle Eye Cherry "Save Tonight |
(3) Adding the newbies will yield 12 songs in each group that will compete in a last-chance qualifier.

(4) Voters will choose their top 5 songs of those 12. The five songs that get the most total votes will replace the DQ song and the four open spots on the bottom of each winner's group. They will thus earn a berth in the 64-song bracket.
If you are confused, look at the charts below. These are repeats of the winner-loser figures from above, but with some lo-tech shapes added. The songs inside the boxes will compete against four new songs for the bottom five spots on each side of the bracket.
Among other things, this means that Spacehog still has a chance. Boom.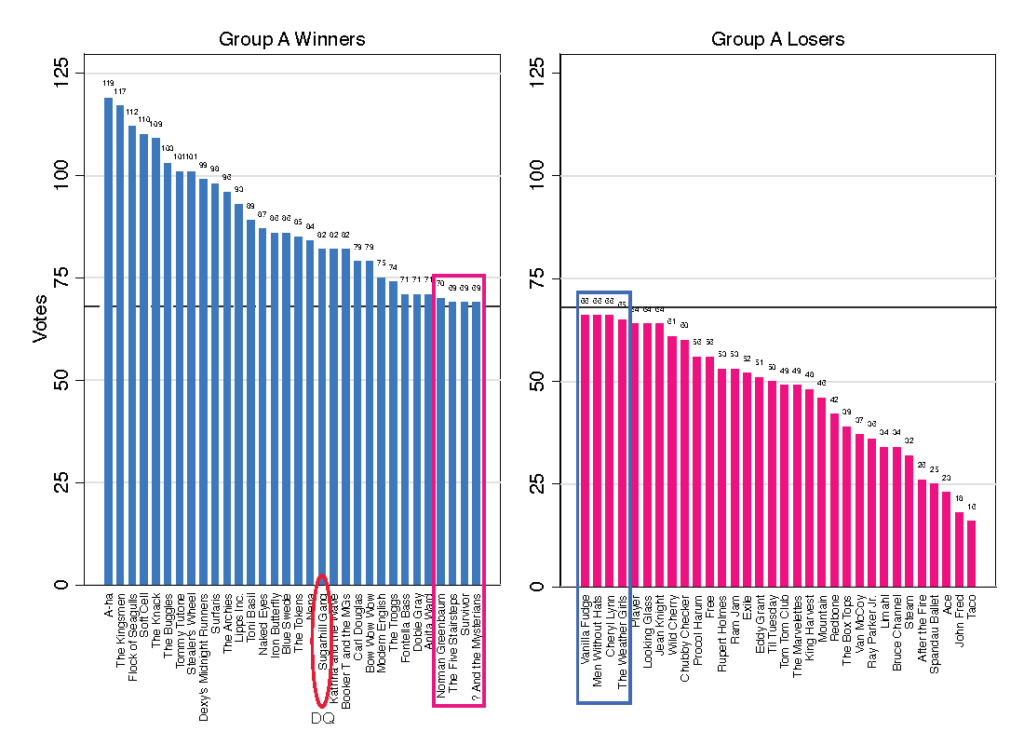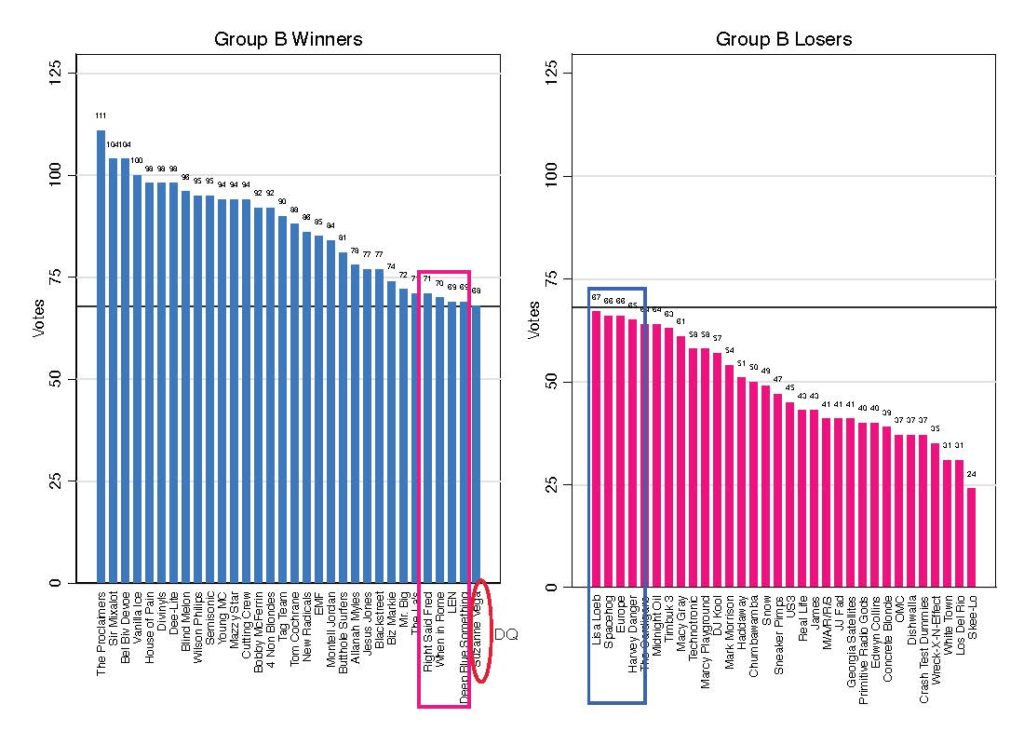 Still haven't voted in the Last Chance Qualifier? Here's the button, baby bird.
---
Back to top
Back to winner charts
Back to winner lists
Back to hot takes
---
---
ARCHIVED ROUND OF 128 POLL
---
instructions
This results of this poll will produce a 64-song one hit wonder bracket. Why 64? Because that's the way it's done in big sports tournaments like March Madness.
Please select whichever song you prefer, based simultaneously on (a) how well it achieves one-hit wonder quintessence and (b) how much you like it. If you think a song should not count as a one-hit wonder, then vote for the other song.

I made notes on fun matchup coincidences.
---
three other quick things
First, power protection. The Round of 128 and all subsequent rounds will be power-protected, meaning that the song with the highest seed faces the song with the lowest seed (1 v. 64, 2 v. 63, etc…).
Second, song errors. If you don't see a song that you think should be part of the competition, odds are it was eliminated in the preliminary seedings, before we even got to the Round of 128. Check the full list by clicking on this sentence. I will also continue to process song disputes and correct for errors prior to the 64-song championship bracket.*
*To maintain transparency, I should let everyone know that since the posting of this survey, people have brought disputes against Sugarhill Gang and Suzanne Vega. I will make a ruling about disqualification, but after polling is completed.
Third, typos. Please read!
This kills me, but there are a handful of typos in this survey that I can't change without losing the early polling data:
(1) The answers to the Group A #19 and #20 matchups are the same. For the #20 Looking Glass v. #45 Anita Ward question, just treat the first response as "Brandy" and the second response as "Ring My Bell."
(2) It should be Procol Harum "Whiter Shade of Pale"
(3) It should be "Bobby McFerrin"
(4) When in Rome's song is "The Promise," not "I Promise."
(5) The artist who performed "This Is How We Do It" is Montell Jordan, though I just call him Montell.
---
now, the poll
Thanks! Please vote again on the Round of 64, coming in May.